The Xcode plugin works with the latest* Xcode and is open-source on GitHub.
*Note: Xcode8 disables all plugins including WakaTime. Use
this app
to re-enable plugins in Xcode8. Extract the zip, run
MakeXcodeGr8Again.app
, then drag and drop your
Xcode.app
into the program's window to patch your Xcode. Alternatively, you can compile this program on your own from the
source code
.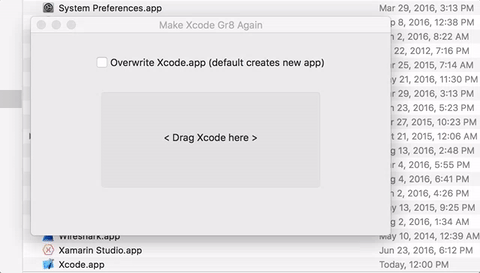 Installing
Install Alcatraz.

Install WakaTime plugin:

a. Click Window → Package Manager inside Xcode.

b. Type WakaTime, then click the plugin icon on the left to install.


c. Restart Xcode.

Enter your API key , then click OK.

Use Xcode like you normally do and your time will be tracked for you automatically.

Visit https://wakatime.com/dashboard to see your logged time.
Upgrading
Installed plugins are checked and updated each time the Alcatraz Package Manager window is launched.
Important! Xcode must be quit and re-launched to complete the update.